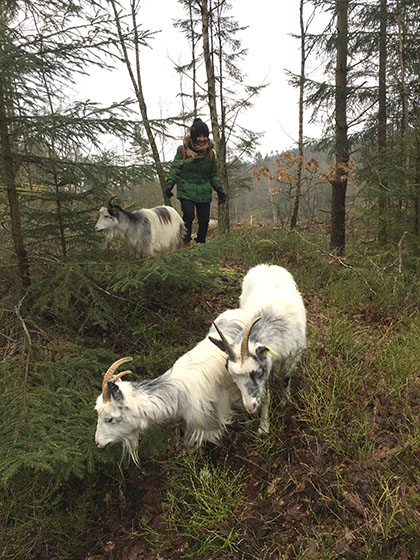 We are really glad to welcome Tanya at Minifarm. First meeting with pigs and goats went extremely well and now plans for cooperation are crafted. First time teamwork with architects from India.
We have hosted a lot of people from all over the world showing goats and pigs and fish farming. It pleases us a lot that som many find our small scale initiatives interesting. We think we do good stuff and when someone from a country far away appreciate our initiatives it compensates for all the work.
Special relation
When Tanya called she said she might want to do her masters thesis on smart houses for animals and people. Wow. Stadsjords lectures at Chalmers initiated the contact. We met and discussed and next meeting should be at minifarm with the animals. Tanya froze. "I´m not used to animals close up."
Tanya explained that she loves animals but is quite a bit afraid of them but willing to give it a try.
I love it
We met in the forest and walked in the forest for an hour. Me first, then the goats and just behind Tanya with a smile that changed from polite: I hate it but I am strong and will survive" to "I love every minute of it and I´m not scared the goats will kill me!"
Tanya hasn´t decided to work with Stadsjord but if she does we are very happy to welcome her. And either way very happy to have here as a special friend with interesting experiences from a country far from Minifarm in miles but perhaps close in smart use of resources.